Shark skin grater sign board printed with your store's name
Our craftsman makes an Edo era style hand made sigh board with a solid timber and shark skin.
It can be used for a sign or an interior decoration at Sushi restaurants and Soba restaurants.
Custom-order for branded name on a sign is available.
Please inquire about branded name on the phone or email.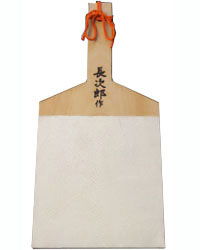 Shark skin grater sign board printed with your store's name
490x245x275mm
¥51,300